A Music- Art Happening in Paris June 2017
FuMar's pianist Krys Markowski had worked with visual artist Viviane Dunn in a previous life and together they organised this event "FuMarProvisation" event: The Art inspires the Music and the Music inspires the art.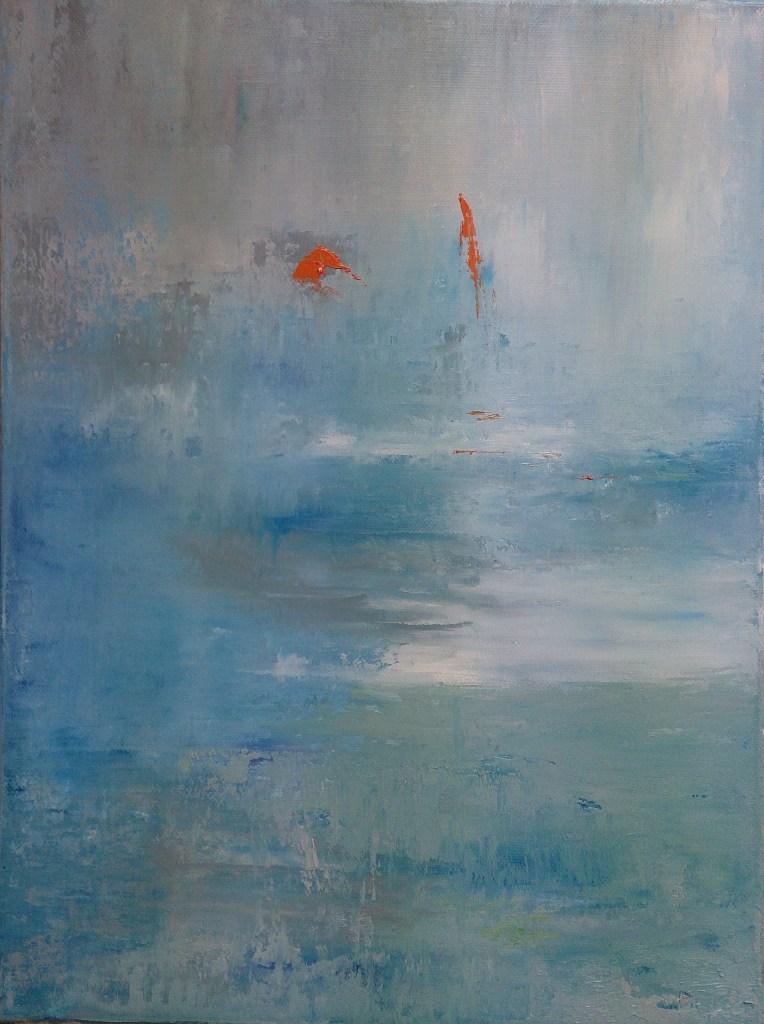 In preparation Viv painted this oil on canvass "Grz on the Water" while listening to FuMar's composition.
FuMar's "Grez on the Water" is on their Lanercost Session 2 album but can be heard from this link.
The story of the event is told in this You Tube Clip:
The comment from Viv after the event is : "Saturday afternoon at the Galerie du Colombier in Paris was something special for me. I paint at the gallery which doubles up as a workshop several times a week and where friends of the gallery paint and talk about their art. I have often finished a painting, looked at it and thought 'I've just painted Debussy'. Or I've started a painting thinking 'I'd like to paint what the beginning of Mahler's 4th symphony feels like to me'. I often paint with classical music playing in the background. But until FuMar came along I had never actually painted while consciously and purposefully listening to music! I first tried my hand painting while listening to 'Grez on the water'. On Saturday, with Phil and Krys present and their lovely sound wafting from the gallery while I stood at my easel just outside, I first decided that what I was hearing merited a vivid blue on the canvas and as I set to it I asked for happy, lively music to go with my initial idea for a colour. I listened and painted and stuck with the blue because that was what the piano and saxo sounds made me want to do. The atmosphere of the afternoon took hold – curious passers-by, friends coming to share the experience and to see me paint (none of them ever had), constant interruptions and chatting, and FuMar's music of course. If someone had asked me before if I could paint with so many pleasant distractions and people watching me I would have said 'No way!' Later as the event drew to a close and the afternoon turned into early evening, I decided I couldn't end all this without my own 'Sunday morning in Paris' – my own personal celebration of FuMar's music and this beautiful city. I asked Phil and Krys to play their own compositions while I did the light grey/blue background for a small painting and when that was done I requested 'Sunday morning in Paris' to help me put the final delicate touches on the canvas. Whether or not the observer sees a Sunday morning in Paris in what I've painted is immaterial to me. What matters is what the music made me want to do. Thank you, FuMar, for making this happen."
FuMar are now looking forward to their next event in Carlisle on 15th July 2017

Phil Furneaux 22nd June 2017